Maryland Assessment Group 2019 Conference

November 13, 2019 - November 15, 2019
Princess Royale Oceanfront Resort & Conference Center
91st Street Oceanfront
Ocean City , MD 21842


Conference Information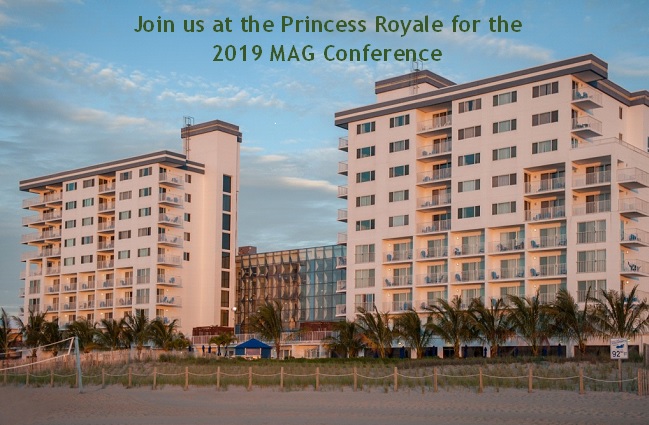 Maryland Assessment Group 2019 Conference
"Comprehensive Assessment and Accountability"
November 13-15, 2019

Princess Royale Conference Center, Ocean City, MD
MAG is moving to the Princess Royale! We are excited for our new location and look forward to many new traditions and programs. Please join us as we embark on this new adventure.
We are also excited to welcome back by popular demand Dr. Dylan Wiliam. Dr. Wiliam, an internationally recognized expert on Formative Assessment, will be the Keynote Speaker at MAG's Wednesday night opening event. For a more in-depth workshop, join us for the pre-conference session presented by Dr. Wiliam on Wednesday afternoon.
The MAG program committee is hard at work putting together professional development sessions, best practices and new programs focused on helping teachers use the latest and most innovative assessment tools to positively impact student achievement in their classrooms.
As always, MSDE staff and vendors will bring us a variety of presentations and the latest information on Maryland's assessment program.
MAG aims to change it up a bit in our new venue as we continue to offer many networking opportunities to meet and share with colleagues, MSDE and vendors.
We look forward to seeing you at the beach!
Conference Registration Fees
MAG accepts payment by credit card, check or purchase order. If paying by purchase order, please send your invoice to the appropriate department for payment.

Payment must be postmarked no later than November 1, 2019.
Please note, the Early Bird Registration fee of $215 is only good in advance of the conference. The rate will increase to $230 onsite.
Cancellation Policy: Participants canceling their registrations on or before November 1st will receive a full refund less an administrative fee of $60.00. After November 1st, cancellation refunds will be considered for extenuating situations only.

Cancellation fee - on or before November 01, 2019- $60.00. No refunds after November 01, 2019.
Pre-Conference Session and Included Meals
Pre-Conference Session
To enhance your learning experience, MAG is offering a special Pre-Conference Workshop from 10:30 AM - 3:30 PM on Wednesday, November 13th.
MAG is excited to welcome back internationally recognized formative assessment expert, Dr. Dylan Wiliam who will discuss the school leader's most important job: to inspire growth and improved performance in teachers. Hear first-hand about his new policy publications.
Attendees will take away practical recommendations for using minute-to-minute formative assessments to create structured, rigorous learning environments that accelerate learning and increase students' retention of knowledge.

The Pre-Conference session is limited to the first 150 people who register. Don't miss out!
A lunch break, including a complimentary box lunch, will be provided.

Following is the list of Pre-Conference Session:
| | | | | | |
| --- | --- | --- | --- | --- | --- |
| November 13, 2019 | 10:30 AM | - | 03:30 PM | MAG Pre-Conference Session | $110.00 |
| November 13, 2019 | 10:30 AM | - | 03:30 PM | MAG Pre-Conference Session (not attending MAG Conference) | $160.00 |
Click here to view/print a description of the above Pre-Conference Session.
Included Meals
Several meals are included in the conference fee. In an effort to have an accurate count and reduce food waste, please choose only the meals you will attend.
You will receive tickets for the meals you have chosen in your registration packet.
For a complete description of conference meals click the link below.
Following is the list of Included Meals:
| | | | | |
| --- | --- | --- | --- | --- |
| November 13, 2019 | 06:00 PM | 07:30 PM | Welcome Dinner | $0.00 |
| November 14, 2019 | 07:15 AM | 08:30 AM | Thursday Breakfast | $0.00 |
| November 14, 2019 | 12:00 PM | 01:30 PM | Thursday Lunch | $0.00 |
| November 14, 2019 | 06:30 PM | 08:30 PM | Thursday Dinner | $0.00 |
| November 15, 2019 | 10:00 AM | 12:00 PM | Friday Brunch | $0.00 |
Click here to view/print a description of the above functions.
Hotel Reservations
Princess Royale Oceanfront Resort & Conference Center
91st Street Oceanfront, Ocean City, MD 21842; 1-800-476-9253; Princess Royale Website
This newly renovated oceanfront hotel is the conference headquarters for MAG 2019. Rooms have either two double beds or one king bed, most with pull-out sofa bed.
Special MAG Group rates:
$89.00 One Bedroom suite, Ocean/Pool View

$109.00 One Bedroom suite, Oceanfront

$149.00 Two bedroom condo
$199.00 Three bedroom condo
Additional adults over and above double occupancy will be charged $20.00 per person.

All reservations must be made by October 24, 2019 for these rates. All rates are per room, per night.
For reservations, please call the hotel toll-free at 1-800-476-9253 and request the Maryland Assessment Group Conference group rate.

To make reservations online, please click on the link below. The Group Code is: 5383.
A deposit equal to one night's room and tax will be required to hold your reservation. You will receive confirmation directly from the Princess Royale.
The deposit is refundable if reservation is cancelled at least 72 hours prior to arrival and a cancellation number is obtained. There will be no refunds for early check-out.

The Princess Royale is a 100% smoke-free property.